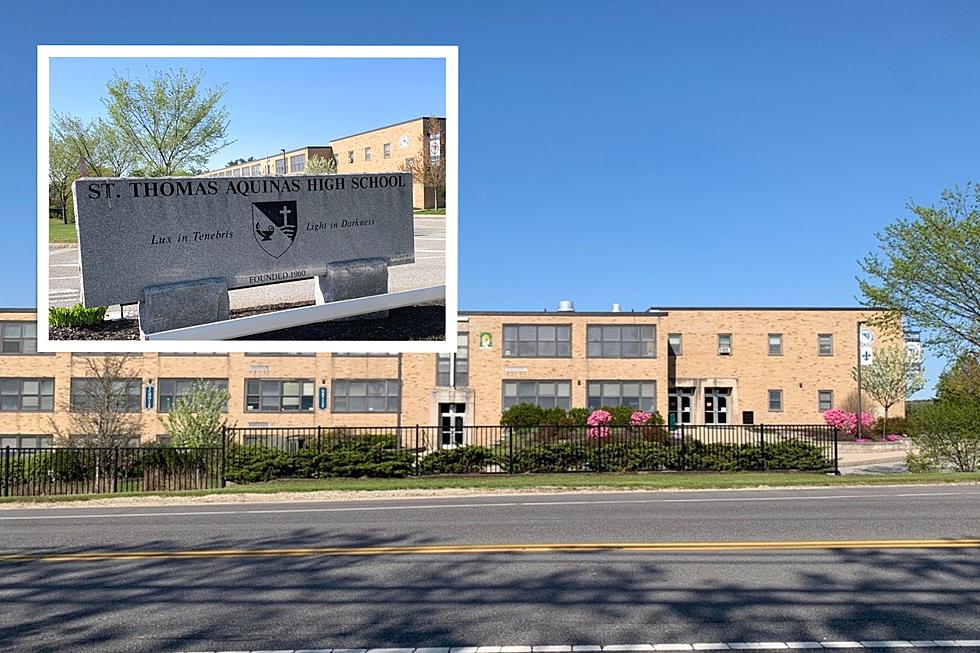 Can 'Season of Celebration' Bring St. Thomas Aquinas Together?
St. Thomas Aquinas in Dover (Townsquare Media)
🔴 Parents and students at St. Thomas Aquinas High School believe the contracts of four teachers were not renewed because of support for the LGBTQ+ community
🔴 STA principal Paul Marquis denies the allegation
🔴 The Class of '24 Student Advisory Board says it feels "helpless" and "disappointed"
---
A virtual standoff over teachers whose contracts weren't renewed by St. Thomas Aquinas School in Dover continues with the administration offering hope that the school can come together in the final weeks of the school year.
Four teachers will not be back for the 2023-24 academic year, according to school president Paul Marquis. He said that it is "customary at this time of year" to provide all teachers and staff with letters of intent before contracts are offered and signed for the next school year.
Social media has exploded with speculation by parents and students who believe the contracts were not renewed because the teachers "align with, support, and have family members who are part of the LGBTQ+ community," according to a GoFundMe page created to financially assist the teachers and administrations who are not returning.
"These terminations followed the diocese's announcement that they planned to have teachers participate in training provided by the Person and Identity Project, an anti-trans 'gender ideology' organization. While St. Thomas Aquinas High School denies these teachers were not renewed as part of an anti-LGBTQ+ movement, critical-thinking students, parents, and community members see a clear correlation."
Marquis has denied the allegation several times in statements to the school community.
"The recent non-renewal of a total of four faculty member contracts has absolutely nothing to do with LGBTQ+ identity or alignment. Each faculty and staff member is still employed through the end of this school year," Marquis said in one statement to the school community obtained by Seacoast Current.
Students felt "helpless" over the decision
The Person and Identity Project describes itself as a program to "assist the Catholic Church in promoting the Catholic vision of the human person and responding to the challenges of gender ideology."
Gender ideology is "sowing confusion and undermining the Church's mission of evangelization, the rise of gender ideology has created an urgent need for clarity, education, and compassionate guidance for Catholic families and young people."
The group is affiliated with the conservative think tank Ethics and Public Policy Center.
The GoFundMe page includes a statement by the Class of 2024 Student Advisory Board which said it feels "helpless" and "disappointed" at the school's decision on the teacher contracts. The student board said the decision contradicts the STA mission that welcomes all, no matter their measure of faith.
"'Welcome' is not a word we take lightly. The St. Thomas community is a family. And right now, our family is not welcome. We have been devastated to hear the news regarding our teachers, and we feel it is unjust and unfair. These teachers have put their time, effort, and hearts into their careers to serve us students by offering us an invaluable education and a supportive environment. They chose STA to support its mission. Its mission failed them."
The students said they are developing a plan of action, but did not disclose specifics.
Putting aside differences
Noting that graduation is approaching during a "season of celebration", Marquis said the speculation has prompted an increase in law enforcement presence to protect student and staff safety. No threat has been received, according to Marquis.
"I pray that the peace of Jesus will fill all of our hearts and provide us with the virtues needed to give our entire community the grace to move forward, especially where there are disagreements," Marquis said in a statement issued to the school community this week.
Marquis said that two additional faculty members made the decision not to return for the upcoming academic year.
"Combined, these six departures represent an attrition rate at the school that is less than the average attrition rate of Catholic schools in New Hampshire.
He would disclose specific reasons for any of the decisions made by the faculty members.
Contact reporter Dan Alexander at Dan.Alexander@townsquaremedia.com or via Twitter @DanAlexanderNH
Here's New Hampshire's Official 2023 Fair Schedule
More From Seacoast Current