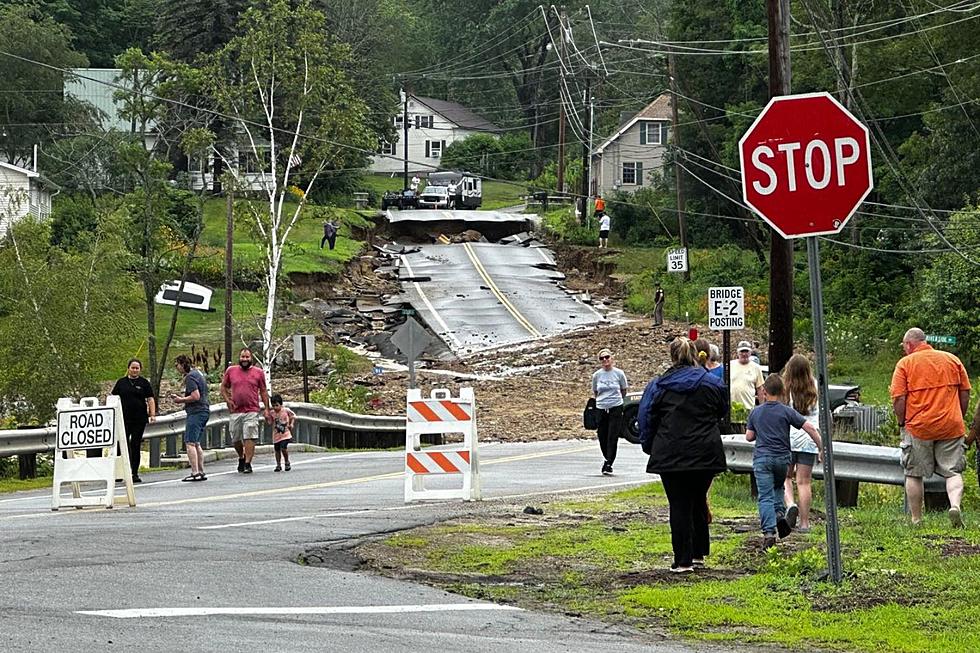 How Much Rain Fell Sunday on the Seacoast?
Road damage in Alton (Rochester, NH Scanner Alerts)
🌧 The most rain fell in Londonderry
🌧 Roads in Alton and Wolfeboro were heavily damaged
🌧 No tornadoes were reported on the Seacoast, despite two warnings
---
The Seacoast region gets a break from the soaking rain on Monday.
Between one and two inches fell during Sunday's rain, with nearly four inches recorded in Londonderry, according to National Weather Service observations.
The rain led to the postponement of the Crayon 301 NASCAR race at New Hampshire Speedway until Monday at noon.
There were two Tornado Warnings issued Sunday for portions of Rockingham County, and a Tornado Watch for the entire Seacoast region, but no touchdowns were reported to the National Weather Service in Gray, Maine.
Alton took the brunt of the damage, with roads flooded out and heavily damaged. Route 140 will be closed long term, as it needs to be rebuilt between Letter S Rd. and the Irving Propane building. The road is also shut between Horne Rd. and the Gilmanton Town line.
Other closures include Mt. Major Hwy (Route 11W) between Lakewood Dr. and Rand Hill Rd.(West end), Coffin Brook Rd, Halls Hill Rd, and Avery Hill Rd. Police also warned of many roads with edges eaten away by running water.
Wolfeboro Police reported damage to sections of Route 28 and Route 109 East.
Sunday's Rainfall Amounts
York County
Limerick 2.00 inches
Hollis 1.46 in
North Berwick 1.45 in
Shapleigh 1.36 in
Parsonsfield 1.24 in
Acton 1.13 in
Kennebunkport 1.07 in
Sanford 1.01 in
Arundel 0.74 in
Rockingham County
Londonderry 3.70 in
Auburn 2.14 in
Derry 2.06 in
Northwood 2.00 in
Raymond 1.98 in
Nottingham 1.44 in
Windham 1.39 in
Chester 1.26 in
Hampstead 1.11 in
Hampton 0.88 in
Exeter 0.53 in
Strafford County
UNH Thompson Farm Durham 1.51 in
Barrington 1.22 in
Dover 1.15 in
Contact reporter Dan Alexander at Dan.Alexander@townsquaremedia.com or via Twitter @DanAlexanderNH
13 Stores That Could Replace Christmas Tree Shops in Portsmouth
More From Seacoast Current