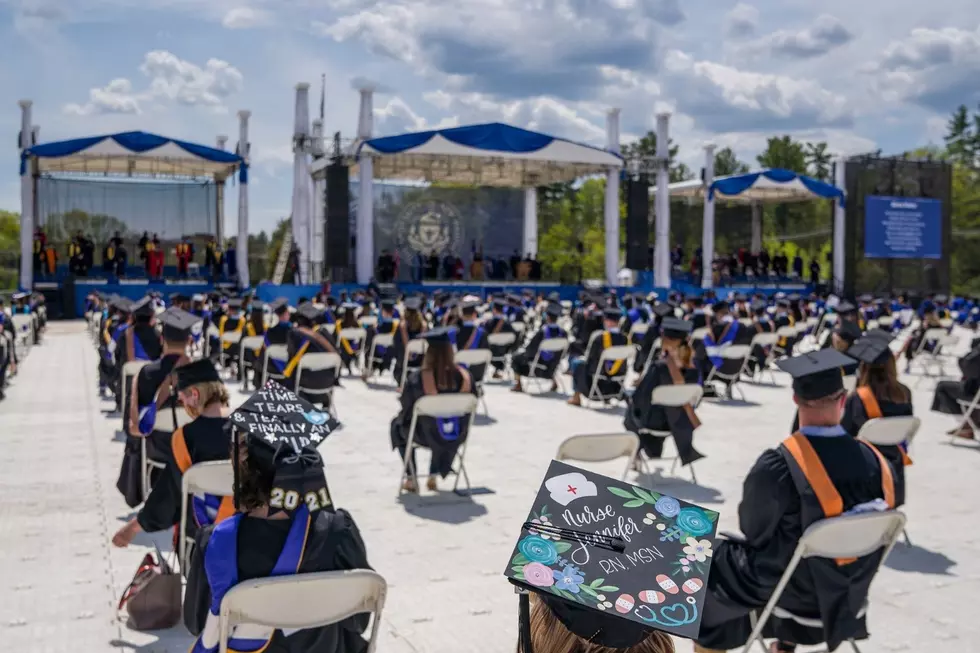 Impact of Pandemic Part of UNH Commencement Ceremonies
Jeremy Gasowski, UNH
It's the same but different for commencement at UNH this year as the coronavirus continues to have an impact on two graduating classes.
An in-person commencement was held for members of both the Class of 2020 and 2021 this weekend at Wildcat Stadium with smaller ceremonies on Friday and Saturday.
Commencement for the Class of 2020 was virtual because of crowd restrictions in place due to the pandemic.
Each of the smaller ceremonies was essentially the same for the College of Health and Human Services, College of Engineering and Physical Sciences & College of Life Sciences and Agriculture on Friday although each graduate's name was read at their respective event.
The Peter T. Paul College of Business and Economics and College of Liberal Arts were scheduled for Saturday.
The University Wind Symphony performed from a separate location and all the ceremonies heard a pre-recorded address from CNN's Wolf Blitzer, who congratulated the graduates for making it through one of the most challenging years in modern history.
"It's been a very scary and dangerous time for everyone. You have much to be proud of
especially in the way you adopted to these extraordinary times. Virtual classes, hybrid classes, but you did it and you did it well. You are coming out of it smarter and wiser in knowing that you can pass the toughest of tests and you can do it on Zoom if necessary," Blitzer said
Blitzer also recognized the friends, family and faculty who supported them through a unique and frightening time.
"I also want to congratulate your parents and your grandparents, brothers and sisters, uncles and aunts, friends and loved ones who supported you through it all. Job well done. And, of course, we all thank the wonderful faculty and staff of the University of New Hampshire. You have done amazing work teaching and guiding these students demonstrating your dedication and your creativity," Blitzer said.
The host of CNN's Situation Room, who told the graduates that his first name really is Wolf, credited his own parents who were skeptical of his chosen career path of journalism in helping him succeed.
"Like your parents, no doubt my parents were firm believers in education. They fully understood how important it is in one's life. They pushed me hard sometimes when I clearly wanted to do something else but they, of course, were right," Blitzer said.
The pandemic was also a theme of UNH President James Dean, who complimented the class for pivoting quickly to virtual learning, wearing masks when class resumed at the beginning of the semester and maintaining a lower overall rate of infection than the state of New Hampshire, which allowed the school to remain open for in-person classes.
Despite the pandemic, Dean said athletics, activities and research continued as best it could.
"You tackled every challenge with quiet dignity, respect and hard work. You innovated and mastered new paths to success. You found joy and you gave us reasons to rejoice with you. You inspired each other and everyone who worked with you, certainly including me. This is the New Hampshire way. When it has to be done, we find a way to do it," Dean said.
As part of the protocol in place for commencement, all attendees had to show proof of full COVID-19 vaccination or provide a negative COVID-19 test within 72 hours of the ceremony. Masks were required to be worn in compliance with the town of Durham's mask mandate.
UNH Commencement 2021
The University of New Hampshire's commencement for the Class of 2021 was broken down into four smaller ceremonies at Wildcat Stadium on May 21 and 22. CNN's Wolf Blitzer delivered a pre-recorded keynote address and all in attendance had to wear a mask to comply with the Town of Durham's mask mandate.
Contact reporter Dan Alexander at Dan.Alexander@townsquaremedia.com or via Twitter @DanAlexanderNH
Portsmouth and the Seacoast Prepare for Summer 2021
With COVID-19 vaccinations on the rise and the number of new cases falling Gov. Chris Sununu is optimistic about the prospects for a good summer for travel and tourism. Valerie Rochon, president of the Chamber Collaborative of Greater Portsmouth shares the governor's enthusiasm for a strong summer season.
More From Seacoast Current