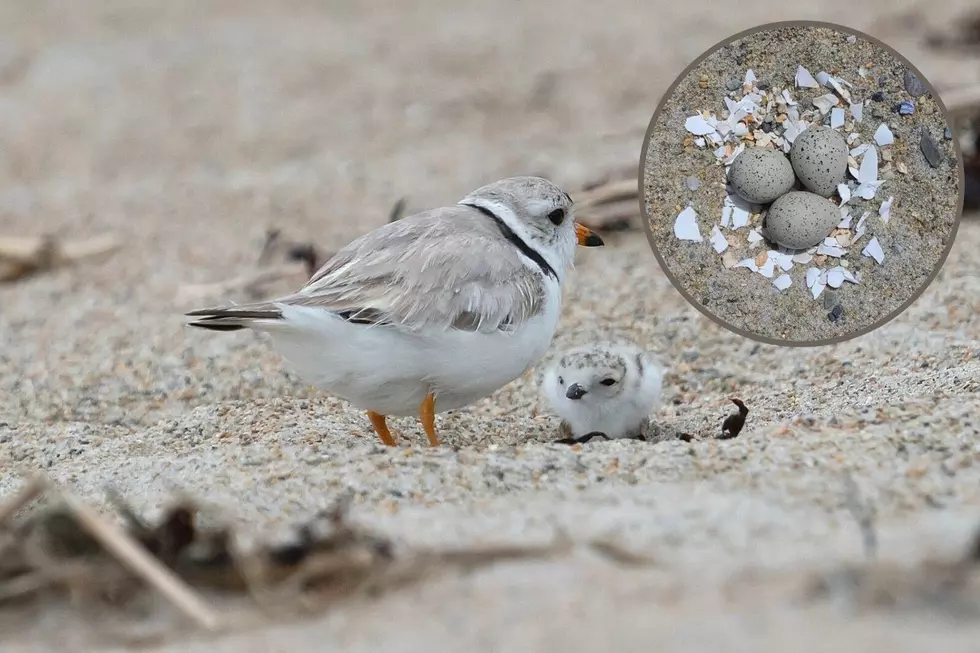 Piping Plovers Force Cancellation of Hampton Beach Fireworks
Piping plover on Hampton Beach in 2021 (NHFG/Christian Robinson ), Piping plover eggs in 2022 (NH Fish & Game)
They're little and they're cute, but the endangered status of piping plovers gives them great power, which has caused the cancellation of Memorial Day fireworks on Hampton Beach for the third year in a row.
Sunday night's display, the first of the season scheduled by the Hampton Beach Village District, was called off because of the endangered birds, who are again nesting on the beach. They are in an area near L Street and Bernie's Beach Bar that's blocked off with yellow roping.
"Currently we have thirteen active nests on Hampton and Seabrook beaches, and at least two additional pairs are displaying nesting behavior but have yet to lay their first egg," NH Fish and Game biologist Brendan Clifford said.
The first eggs are expected to hatch in Hampton this week, according to Clifford.
Piping plovers began nesting on the beach during the COVID-19 pandemic in 2020 when they were closed down. In 2021, a record 13 pairs of piping plovers nested in Hampton. They cannot be moved because of their endangered status.
Two displays were canceled in June 2021 because of the proximity of the display area to the nesting area as the chicks learned to fly.  They moved on their own to allow the Fourth of July fireworks to go on as scheduled in 2021.
Clifford said this is a critical time as the adult plovers show their chicks good feeding areas, including the high-tide line where seaweed is deposited, according to Clifford.
"During these first few weeks of life, the flightless cotton ball–sized chicks are extremely vulnerable to being run over by vehicles, scooped up by beach rakes, or trampled by unsuspecting beachgoers and their pets."
Clifford said there are a few ways beachgoers can help ensure the survival of the chicks.
Watch where you step – A plover chick's defense mechanism is to freeze when people get close, which makes it difficult to see. The chicks are about the size of a cotton ball and light colored, so they blend in with the sand.
Leash your dog – Free-running dogs can accidentally step on and crush eggs and chase after the chicks and adult plovers. Hampton Beach State Park and the Town of Seabrook both have restrictions regarding dogs on beaches during the summer. People should check the rules before bringing their dog on any public beach.
Fill in holes – Holes in the sand are traps for the tiny chicks that can't fly. Filling in any holes on the beach helps the chicks move about and find the food they need to grow strong and be able to fly.
Clifford said there will be a need for volunteers to monitor the chicks as they hatch in June. Those who are interested can call NH Fish and Game at 603-271-0463.
Contact reporter Dan Alexander at Dan.Alexander@townsquaremedia.com or via Twitter @DanAlexanderNH
Trending Stories for Seacoast Current (May 16-22, 2022)
More From Seacoast Current