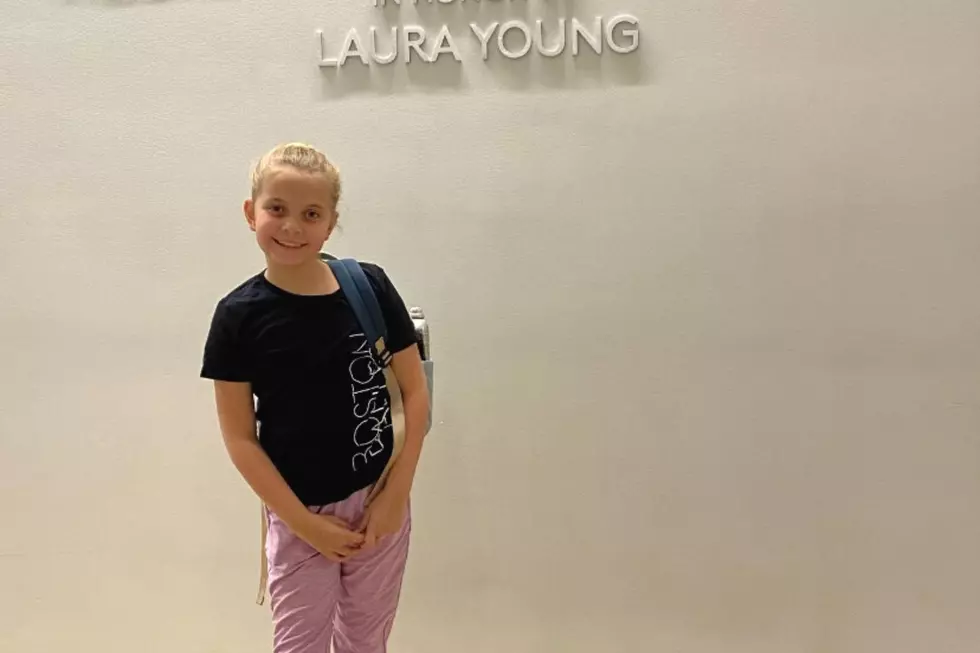 Somersworth, New Hampshire, Girl Dances in Boston Ballet's 'The Nutcracker'
Kendall Spainhower (Mary Beth Sprainhower)
Many 9-year-old girls hope to see The Nutcracker once during the Christmas season. Kendall Spainhower gets to see it 14 times because she's in it.
The Somersworth girl is part of the Boston Ballet's production of the Christmas classic as one of the Polichinelles, after being a student at the Boston Ballet School for a year. She is part of one of the three casts that rotates through 41 scheduled performances starting the Friday after Thanksgiving and continuing through December 31 at the Citizens Bank Opera House.
Mary Beth Spainhower, Kendall's mother, told Seacoast Current her daughter is following in her footsteps as a classical ballet dancer, which Mary until she was in college. Kendall's been dancing since she was two-and-a-half years old.
"Kendall was always sort of a natural in her movement and her expressions, so it just seemed sort of a fit to get her enrolled in dance classes. When we started to see that she was really enjoying her dancing, I found a studio in Dover to start her classical ballet training. She started that at the age of four. She wasn't new to ballet when she took on the commitment in Boston because she was dancing a few days a week here locally," Mary Beth said.
Kendall found herself in classes with older dancers and was always trying to play catch up, so Mary Beth began looking at what the Boston Ballet school could offer for her age level.
"Their curriculum is quite structured, and really works to lay a foundation focusing not only on technique, but also on dancer safety. When she went for a trial class there, I just was very impressed with their program. Kendall was excited to be with dancers her own age, and we made the commitment" Mary Beth said.
Up and Down Interstate 95
Kendall began taking classes two days a week in Boston. With The Nutcracker performances that can mean four days a week making the 90 minute trip.
The Nutcracker represents a big commitment for Kendall and her family, and the Boston Ballet makes sure that the dancers know what they're in for. Cast members must keep up with school, their dance classes, and make every rehearsal.
"They are pretty strict that if you are chosen to be a participant in The Nutcracker, if you were lucky enough to be able to perform with them, that it is a commitment, and there is an expectation that if you are cast in a role that you are going to take that role," Mary Beth said. "They are very clear in telling the children that you although you're not a professional company dancer, you are a cast member, and you really are held to the same high standard that they would expect of a company dancer."
The audience has an expectation from the performers, no matter their level of experience.
The Clowns of The Nutcracker
The Polichinelle are playful characters who emerge from under the large skirt of Mother Ginger. Kendall described them as clown-like and funny. In the 2018 Disney adaptation of The Nutcracker, the role was played by Helen Mirren.
"Her costume is a big hoop and she has stilts on. We have to stay really far away from the stilts. We want to make sure that we don't step on the skirt because if we step on the skirt, the only way it will go is down and it may fall," Kendall said.
Kendall said she has to be in rhythm with how Mother Ginger is walking, or she may get stepped on.
Mary Beth said that it's probably the scene with the most fun in the entire production.
"The music is spirited. You'll often hear the audience members clapping, and when the children come out from underneath the skirt, they're kind of amazed that there's children underneath that skirt. They clap along and it's just, it's a lot of fun," Mary Beth said.
"It's fun because you get to make the audience laugh," Kendall said.
The Performance is the Payoff
For all the travel, rehearsal, and classes, being up on stage is really fun for Kendall and the other children in the cast.
"They've done all the hard work, but really getting out there and performing is their time to have fun and realize that they've done what they set out to do. And now it's time to show the audience what they've done," Mary Beth said.
The entire experience has been a positive one for Kendall. Mary Beth said she's impressed that Kendall has been able to keep up not only her dance commitments, but with her classes at Saint Mary Academy in Dover.
Kendall said 30 classmates, friends, and family are making a trip to attend one of her performances, including her third grade teacher from last year, and this year's fourth grade teacher.
"...'The Kendall Fan Club' will get together to see her perform. A group of us will be heading down as a group taking the Downeaster into Boston to watch her show. She is pretty excited to have some classmates who will be joining us."
Her older brother, who attends college away from home, came to her first performance during the Thanksgiving holiday.
When she is not dancing, Kendall enjoys Pilates, playing the piano, and spending time with her best friend Sarah.
Contact reporter Dan Alexander at Dan.Alexander@townsquaremedia.com or via Twitter @DanAlexanderNH
2022 Dover Holiday Parade
After a two year hiatus the Dover Holiday Parade returned on November 27, 2022 under the leadership of Lori Nollet of Cochecho Friends and Dover City Councilman Deputy Mayor Dennis Shanahan
More From Seacoast Current