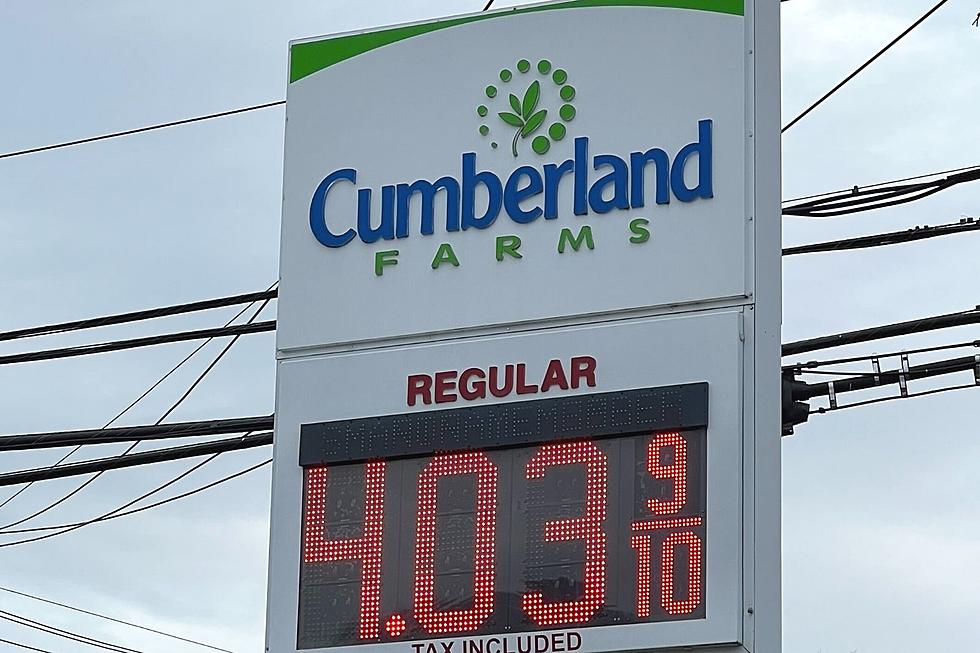 Why Are Gas Prices Creeping Up on the Seacoast?
Gas price sign at a Cumberland Farms (Ginny Rogers, Townsquare Media)
If you thought the price of gas seemed to be on the increase after dropping from all-time highs over the past few weeks, you're not wrong.
The average price of regular in New Hampshire was $4.04 on Saturday, which was roughly when prices bottomed out since hitting their highest ever on March 11 at $4.297, according to a AAA survey of prices. Rockingham County has the lowest average in the state at $3.980, and Strafford County the next lowest at $4.021.
Maine's average was also $4.115, while Massachusetts' average is $4.128.
"We've had seen the average price of gasoline decline every week for the last month or so and that's recently changed," Northern New England AAA spokesman Dan Goodman told Seacoast Current.
Why the Increases?
Some of the usual factors that can push prices upward in the spring are at play, along with some others unique to the current world situation, according to Goodman,
The price of crude has increased $14-$15 per barrel in the past week, but overall oil stocks are down about 10% versus last year at this time.
"These increased sanctions the EU is putting on Russia, the increase in demand, and the slow reopening in China after shutting down because of COVID are all playing a significant role in this price increase," Goodman said.
Mid-April is traditionally when the demand for gasoline increases and supply switches to the more expensive summer blend of gas.
Analyst Tom Kloza of the Oil Price Information Service said that on April 18, New York Harbor switched from winter (high vapor pressure) to summer (low vapor pressure) gasoline, which can add 22 cents a gallon to gas in the northeast.
However, President Joe Biden on April 12 announced during a trip to Iowa that his administration will allow gasoline with a 15% ethanol blend called E15 to continue to be sold in the summer. Kloza told USA Today that in Biden's toolbox of actions he can take to affect the price of gas, E15 is a small part of the fuel distribution system.
Release of the Strategic Reserves
Goodman said that the release of oil from the U.S. Strategic Reserve has helped with the recent decreases, but he couldn't put a number on it.
"We would assume it played a role in those sinking prices we experienced over the past month," Goodman said.
During his visit to Portsmouth Harbor on Tuesday, Biden said that between the U.S. and thirty other countries, a total of 240 million barrels a day is being released daily for the next six months. Biden credited the release for driving prices down 18 cents a gallon.
"Nations coming together to help deny Putin the ability to weaponize his energy resources against American families and families in Europe and around the world," Biden said.
The president admitted that the Russian war on Ukraine will continue to impact the world economy.
"It's going to take its toll on energy, and it's going to take its toll relative to food," Biden said.
A Return to Under $3 Per Gallon?
Will gas prices ever return to the $3 per gallon level where it was at the end of 2021, or even less? Goodman is not optimistic.
"It's very hard to predict where the oil market is going. It's day-by-day with the Ukraine and Russia situation. As long as it looks like European countries are providing more sanctions and those countries are heading towards more restrictions, it's hard to see the market decreasing for more than a couple of days," Goodman said.
Contact reporter Dan Alexander at Dan.Alexander@townsquaremedia.com or via Twitter @DanAlexanderNH
Make a Splash at These 7 New Hampshire and Maine Water Parks
More From Seacoast Current