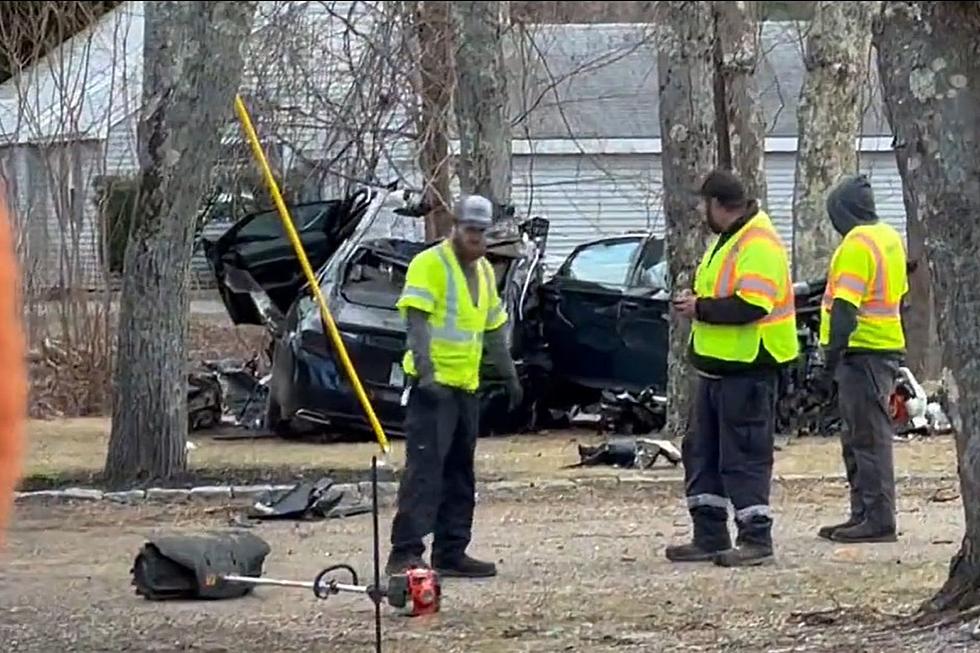 Impact of Horrific East Kingston, New Hampshire, Crash Rips Car in Half
Vehicle involved in a crash on Burnt Swamp Road in East Kingston (@victoriapricetv via Twitter)
🔴 The impact of the crash into a tree ripped the car in half
🔴 The driver, a man, was killed, while a woman was flown out via medical helicopter
🔴 A toddler and baby were also passengers in the car
---
A man is dead and three people seriously injured, including two children, in a horrific crash in East Kingston on Tuesday afternoon that left a car split in half.
New Hampshire State Police said the vehicle was traveling on Burnt Swamp Road (Route 107A) when it crashed around 1:40 p.m. Photos of the crash show the sedan ripped in half by the impact, with one side resting against a tree in the front yard of a house.
WHDH TV reported the transmission of the vehicle was thrown 100 feet.
Speed a Factor in Crash
The circumstances of the crash were not disclosed, but police said a preliminary investigation determined speed was a factor.
The driver of the vehicle, a man, was killed in the crash. A woman sitting in the passenger seat was flown by medical flight to a Boston area hospital for treatment of serious injuries.  A nine-month-old and three-year-old were also in the car.
The identities of those inside the car were not disclosed, pending notification of family.
State Police asked witnesses of the crash to call 603-223-8490.
Contact reporter Dan Alexander at Dan.Alexander@townsquaremedia.com or via Twitter @DanAlexanderNH
Here's Who's Performing at Gillette Stadium in 2023
More From Seacoast Current