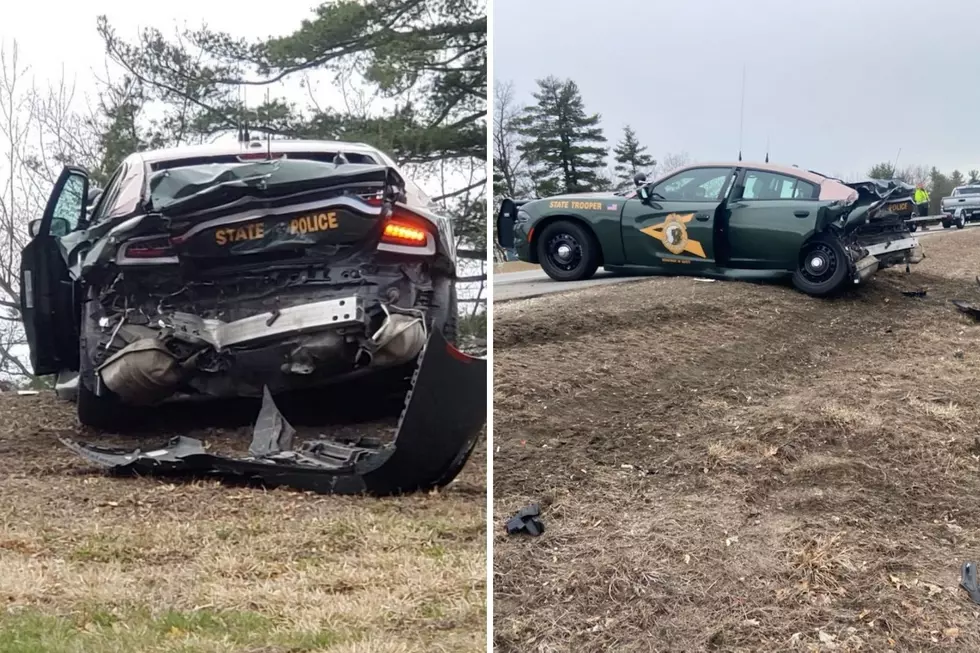 NH State Police Vehicle Rear Ended by Alleged Drunk Driver
NH State Police vehicle after being rear-ended by an SUV 4/30/22 (NH State Police)
A New Hampshire state police trooper was rear-ended by a drunk driver as he was parked in the breakdown lane of the Everett Turnpike.
The trooper's vehicle was parked along the northbound lanes near Exit 11 when he was struck by a 2007 Ford Edge around 7:40 a.m. on Saturday. The trooper was inside the vehicle at the time.
The driver of the Edge, identified as Erica Murphy, 39, of Manchester, and the trooper were taken to Elliot Hospital with non-life threatening injuries.
Murphy was charged with driving under the influence and is scheduled to be arraigned in Hillsborough County Superior Court on Monday.
"Troopers from your New Hampshire State Police continue to put their lives on the line, every day, to make certain New Hampshire remains the safest state in our nation," State Police Col. Nathan Noyes said in a statement. "The dangers they face are real and often times unforgiving. As our men and women continue to ensure everyone's safety on our roadways, we ask those traveling to remain vigilant and avoid distractions, fatigue, and impairment while behind the wheel. It takes all of us to keep our communities safe."
It was the second state vehicle to be rear-ended on a highway this week.
78-year-old Helen Simpson of Manchester slammed her VW Beetle into the back of a DOT truck working in a lane closed to traffic on Route 101 in Auburn on Thursday afternoon.
Contact reporter Dan Alexander at Dan.Alexander@townsquaremedia.com or via Twitter @DanAlexanderNH
Trending Stories for Seacoast Current (April 18-24, 2022)
More From Seacoast Current