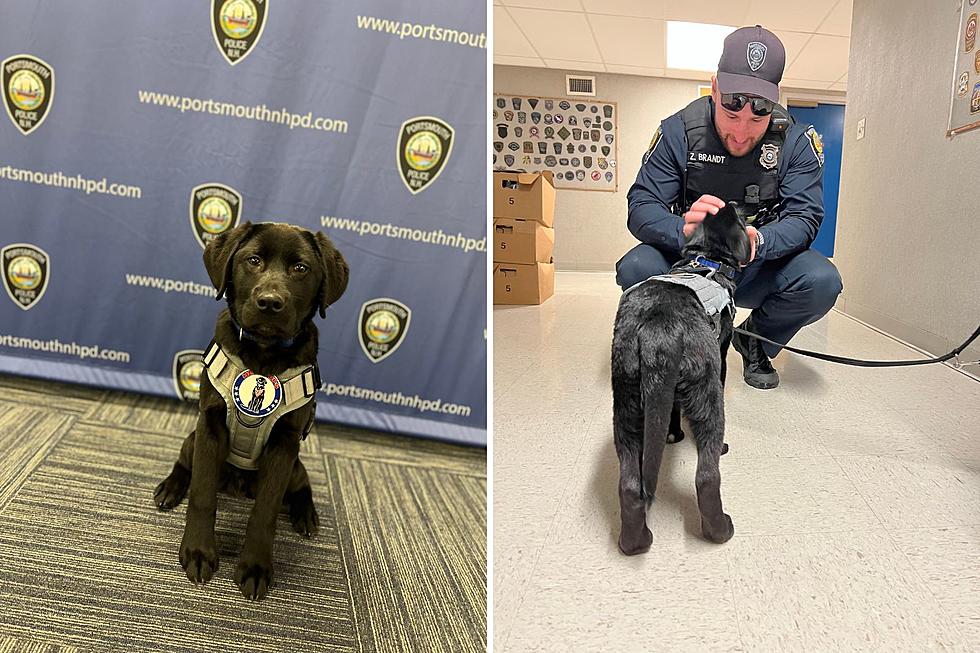 Portsmouth, New Hampshire, Police Pick Their New Comfort Dog
Mason and his handler Officer Michael Nicoli (Portsmouth Police)
No one will get upset if you call the newest member of the Portsmouth Police Department "cute" and "adorable".
Mason, a four-month-old Labrador retriever, was selected to be the department's new comfort dog by Hero Pups of Exeter. The team evaluated four canine candidates based on their temperaments and health, according to Officer Michael Nicoli, who is partnered with Mason.
"We are thrilled to work with the Portsmouth Police and AT&T to bring a comfort dog to the city. This department has found another way to help its community and staff. Officer Nicoli is the perfect person to be the handler for this pup, and we look forward to working with him as we train Portsmouth's new comfort dog," Laura Barker, the founder of Hero Pups said.
He is named after Captain John Mason, the founder of the colony of New Hampshire in 1629. Officers and other members of the Portsmouth police department picked the purebred's name.
Mason's job will be to help ease the trauma for individuals impacted by violence, tragedy, or traumatic events. He can maintain and increase department morale for officers and their families facing difficulties, and spread good will with visits to schools, nursing homes, hospitals, and community events.
Before officially reporting for duty, Mason will go to the dog equivalent of the police academy with Hero Pups. Nicoli trains with Mason once a week.
"I'm learning about proper ways to to manage the dog and to do the commands and all these different things about how to use the utilize Mason the best so we're both kind of in training," Nicoli said.
Mason will be transferred to the department full time, and will be with Nicoli most of the time. Several officers have offered to let Mason stay in their homes as well.
His first assignment will be focused on the health and wellness of the entire department, including civilian staff.
"Our main goal is to have him focus on officer wellness and to make sure officers are potentially best prepared in all aspects to serve the community," Nicoli said.
Mason will also act as a kind of bridge between the community and law enforcement at events.
"Sometimes social climate dictates who people talk to. It's difficult for some people to go up to a police officer, say in Market Square, and strike up a conversation. We can use Mason to bridge that gap and open the door to a conversation that maybe wasn't going to happen."
Nicoli said the comfort dog program is part of a partnership with A&TT and FirstNet which was created following 9/11 to create a single, nationwide broadband network to help law enforcement, fire service, and EMS do their jobs safely and effectively.
"We're overwhelmed with gratitude for the AT&T family to allowing us to add this member to our family. They're very important to the success of this program," Nicoli said.
Contact reporter Dan Alexander at Dan.Alexander@townsquaremedia.com or via Twitter @DanAlexanderNH
Ways to Enjoy a Sober New England St. Patrick's Day
More From Seacoast Current