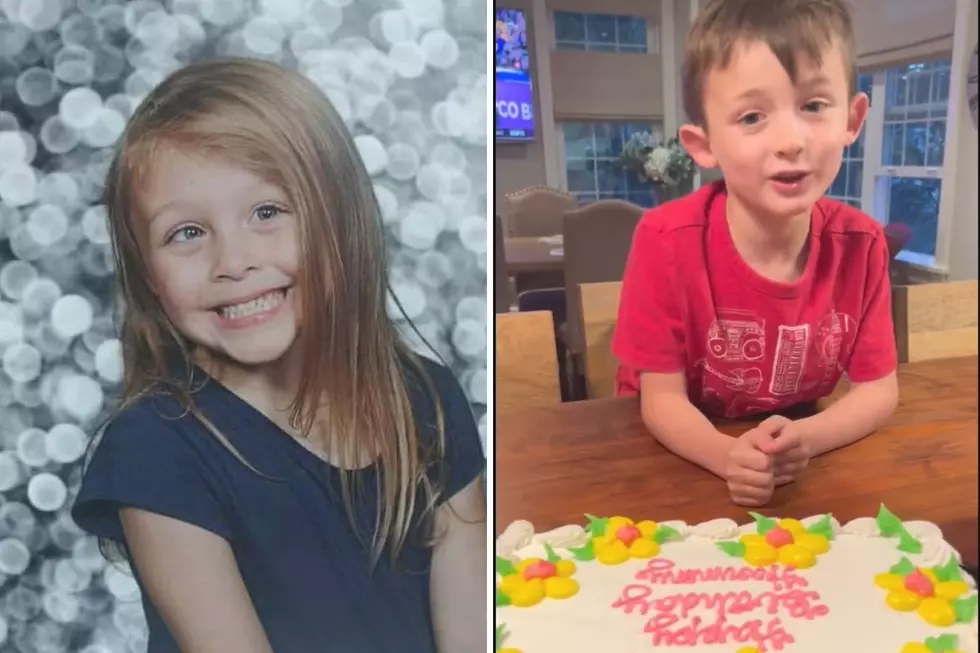 Happy 8th Birthday, Harmony Montgomery
Harmony Montgomery (Manchester Police), brother Jamison (Jonathon Bobbitt-Miller)
Harmony Montgomery's birthday was celebrated in several ways on Tuesday as the now 8-year-old girl remains missing.
Her mother Crystal Sorey hosted a birthday party at a home in Groveland, Massachusetts, complete with a birthday cake and balloons, according to NBC Boston.  Sorey believes she will celebrate future birthdays in person with her daughter.
"I refuse to believe that she is gone until I see some kind of proof. Her body or something. But until then she's alive in our hearts and our minds, " Sorey told WMUR.
Her brother Jamison released pink balloons with his stepfathers at their home near Washington, according to a tweet from Jonathon Bobbitt-Miller.
"Harmony, I hope you have a good birthday, big sister," Jamison said in a video with a birthday cake as he blew a kiss.
"Jamison thinks you're safe in Boston and wanted to send balloons to your birthday party, so we did," Bobbitt-Miller wrote in a tweet. "Although we don't know where Harmony is and sadly, we may never know, we will always celebrate the love and connection she and Jamison had."
The group United to Find Harmony Montgomery hoped to flood the jail cell of her father Adam Montgomery with birthday cards, according to the group's Facebook page. Group member Regina Carr told Boston 25 News that over 200 cards were downloaded from the group's website.
The group also handed out flyers with Harmony's picture outside the Market Basket in Bedford Tuesday evening to keep up interest in the case.
Adam Montgomery remains incarcerated at the Valley Street Jail in Manchester on charges of child endangerment and seven counts of receiving stolen property. He has not cooperated with investigators in the disappearance of his daughter.
After a weekend in jail, Harmony Montgomery's stepmother is a free woman once again.
Kayla Montgomery was arrested Friday during her daily required check-in with Manchester Police and charged with lying to a grand jury. Court documents show she lied about a prior work location and the time of a prior work shift. The case is not related to the disappearance of Harmony Montgomery.
She waived an arraignment hearing and bail was set at $5,000. She must remain within the state of New Hampshire, have no contact with her husband Adam, and continue the daily check-in at police headquarters.
Harmony Montgomery is described as approximately 4 feet and 50 pounds with blonde hair, blue eyes, and glasses. She is blind in her right eye. Information about the girl's current location or about her disappearance can be called into a special tip line manned 24/7 by Manchester Police at 603-203-6060.
A reward of at least $144,000 is being offered for information in the case.
Contact reporter Dan Alexander at Dan.Alexander@townsquaremedia.com or via Twitter @DanAlexanderNH
13 Stores You Shopped At In Maine But Your Kids Have Never Heard Of
Any person who grew up in the 70's, 80's or 90's knows that shopping malls were everything but as times changes, so do stores. Here's a list of places people in Maine shopped at during those decades that your kids have probably never heard of.
More From Seacoast Current