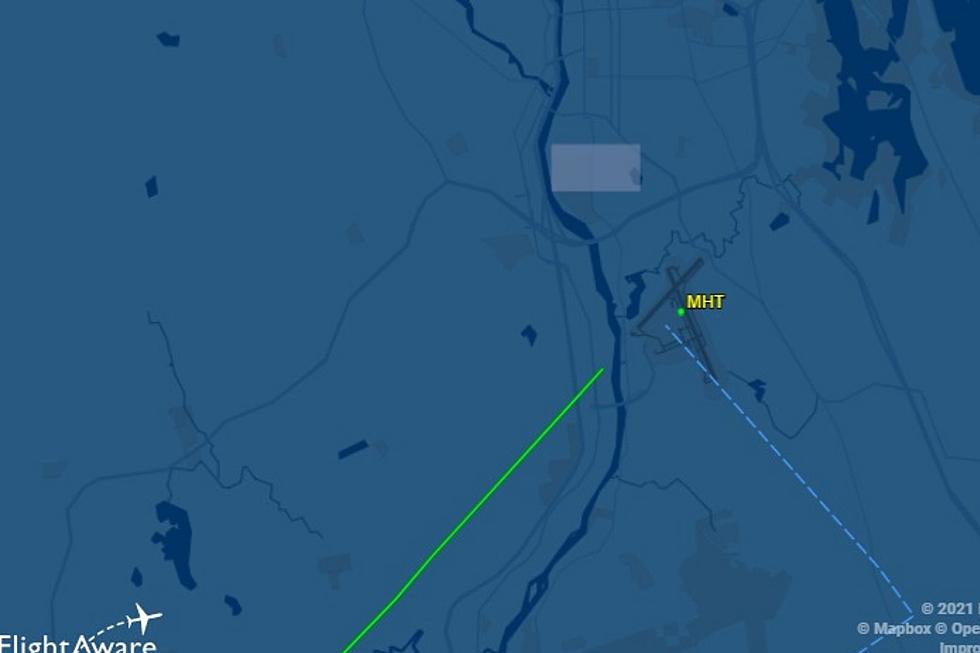 Small Plane Crashes Near Bedford, NH Apartments
Flight path of plane that crashed in Bedford, NH 12/10/21 (FlightAware.com)
A small plane from New Jersey crashed along the banks of the Merrimack River in Bedford late Friday night killing the pilot.
Bedford Police Chief John Bryfonski said 911 calls started coming in around 11:35 p.m. about a crash near Reed Drive just across the river from the Manchester-Boston Regional Airport.  Responding fire and police found a twin-engine plane on the riverbank.
The area is next to the Kensington Apartments with several buildings but no residences were struck, according to Bryfonski.
The crash started a fire in the wooded area surrounding the crash scene, according to coverage by Patch.
The FAA told Seacoast Current the plane, a Swearingen SA-226, reported engine failure on its final approach to the Manchester airport.
Bryfonski identified the pilot as Emanuel Vomvolakis, 23, of Linden, Michigan.
The plane was transporting medical supplies, according to the chief.
During a late night briefing Manchester Airport Director Ted Kitchens said the pilot reported engine trouble before the crash. The airport remained open during the incident.
Plane Made Several Flights on Friday
According to FlightAware.com the plane flown by Castle Aviation, also known as Castle Air,  left the Essex County Airport in northern New Jersey at 10:50 p.m. and was due to land in Manchester at 11:30 p.m.
Castle is based at the airport in Akron-Canton, Ohio. The plane had made several flights on Friday starting from Manchester at 1:26 a.m. to Akron-Canton arriving at 3:31 a.m.
"We are all saddened by the loss of a member of our Castle family in a tragic accident late yesterday. Please take a moment and pray for the pilot's family and the Castle family during this difficult time," the company said in a statement.
Friday night the plane flew from Akron-Canton  at 8:18 p.m. to Baltimore-Washington at 9:12 p.m. The plane quickly left for New  Jersey at 9:43 p.m. and arrived at 10:27 p.m. before heading to Manchester.
The FAA and NTSB will investigate the crash.
Contact reporter Dan Alexander at Dan.Alexander@townsquaremedia.com or via Twitter @DanAlexanderNH
NH SPCA Rescues 67 Cats from Kensington Home
The cats which are all black and white and range in age from young kittens to full grown had overrun the home, according to Steve Sprowl, Field Services Manager for the NHSPC.
More From Seacoast Current